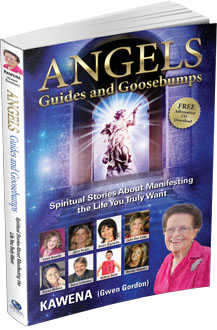 Angels Guides and Goosebumps

Price: $29.95 now only $20.00
Postage & Handling: FREE* (Within Australia)

* Contact us for international postage.
Add To Cart
How To Order
Empower your life through contact with Angels and Guides to become the best you can be.
International author, speaker and spiritual master Kawena shares with you her many years of experience connecting with the Angelic energies, and why as she approaches 90 years of age, she is so happy, full of energy and vitality and still living life to the full.
She will tell you about her amazing and unusual ANGELIC encounters giving you hints on how to connect with your Angels so they too can help you on your life's path.
Kawena's main ambition is to promote the Angel energy. This can help bring about More Love, More Balance and More Caring into the World, while accepting The Angel energy naturally; into our daily life.
As a professional guide and mentor she reveals her secrets to her high energy, good health and inner peace.
You will discover:
** How Kawena connects with her Angels and how you can too
** Stories from others who've had incredible experiences with Angels and Guides
** How to turn your life around and manifest your dreams and desires into a reality
** Powerful positive Affirmations with key tips to help you increase your confidence and self-esteem
** Inside a free meditation CD download to help you utilise the full power of your mind
** Kawena's breakthrough breathing techniques that energise every cell and nerve ending in the body
** How to awaken your intuition
Empower Your Life & Get Connected Today!

---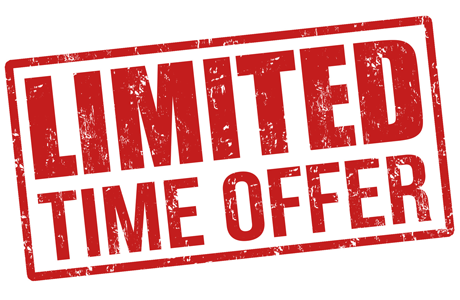 $35 for two books!
Two of the same or one of each. Both books compliment each other. Free postage* (within Australia)
* Contact us for international postage.
---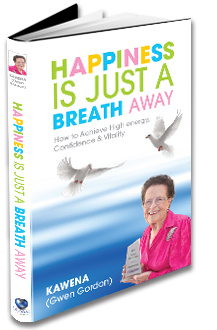 Happiness Is Just A Breath Away

Price: $29.95 now only $20.00
Postage & Handling: FREE* (within Australia)

* Contact us for international postage.
Add To Cart
How To Order
Kindle Edition "eBook" on Amazon

Discover the Secrets of Kawena's high energy, passion and enthusiasm for life.
Simple and easy to understand for young or old.
You will be:
** Happier               
** Healthier                  
** More confident       
** Highly energised
Kawena (89 years young) is inspiring and motivating in sharing her lifetime secrets.
Kawena credits this to being a great believer in the Power of the Breath and the Power of the Mind.
"My happiness and enthusiasm have never been stronger. I am healthier and  have much more energy than at middle age."
You will learn:
Power Breathing for high energy and vitality
Power Affirmations to motivate you each day
Power of the Mind to keep you "out of the rut"
Self Healing to support your health
Manifesting to create the life you want
Confidence & Self Esteem with self respect
Intuitive Awareness to guide your life direction
Spiritually Uplifting Meditations to sooth the soul
Loving & Gifting to empower your life and others
 
"This gift you have in your hands will simply but powerfully expand your understanding that not only Happiness but also Health and Hope are truly just a Breath away."
Elizabeth Joy,  Author "Reconnect with The Heart and Remember the Soul"
Kawena's greatest joy in life is helping people understand what wonderful potential lies in each and everyone of us.
This book will increase your Happiness and Vitality.
Click Here for some FREE Sample Pages